Ethical Hacking
the light side of cybersecurity
IT Security
Penetration test
Post-attacks analysis
Prevention, Detection, Forensics
Social engineering
OSWA and OSWP certified.
Certifications
ethical hacking and cybersecurity certifications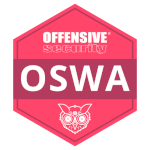 Offensive Security Web Assessor
Offensive Security Web Assessors (OSWAs) have demonstrated the ability to assess web applications, discover web application vulnerabilities, and exploit vulnerabilities to exfiltrate sensitive data, compromise user accounts, and obtain remote code execution.
OSWAs can perform black box assessments of web applications, discover common web application vulnerabilities, exploit web application vulnerabilities using manual and automated techniques.
They are able to assist web development teams in securing web app by proactively discovering vulnerabilities.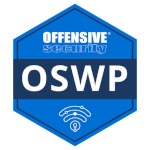 Offensive Security Wireless Professional
OSWPs are able to identify existing encryptions and vulnerabilities in 802.11 networks. They can circumvent network security restrictions and recover the encryption keys in use. Skills learned include:
* Greater insight into wireless offensive security and expanded awareness of the need for real-world security solutions
* Using various wireless reconnaissance tools
* Implementing attacks against WPA Personal and Enterprise encrypted networks
* Understanding how to implement different rogue access point attacks
* Implementing attacks against Wireless Protected Setup (WPS) networks
* Using various tools to crack authentication hashes
* Implementing attacks against Captive Portals

The exam also demonstrates that OSWPs are able to perform under imposed time constraints.
System Administration
and networking
Web server (Linux, Apache, MySQL, PHP)
Mail server (Postfix), DNS and so on...
Routing, Firewalling and IT Security in general
IPSec and SSL/TLS VPNs
PBX server (Asterisk)
Web hosting
Coding
giving a soul to bricks
C, C++, Java, Assembly
PHP, Perl, JavaScript, AJAX
HTML, SQL, and so on...
Web sites and Web applications
Mobile devices
Embedded devices (like POS, Arduino, Raspberry Pi)
Microcontrollers (PIC, AVR, ARM)
Electronics
robots, microcontrollers and PCBs
Electronic circuits design
Microcontroller-based circuits (PIC, AVR, ARM)
Raw components
Arduino, Raspberry Pi & Co.
Printed Circuit Board design
Robotic design
Contact
Any questions? Drop me an e-mail at wiz-at-wizlab.it.